New video "King Kong Loves The Blonde One" out now!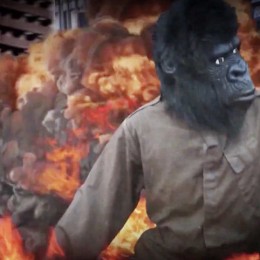 "Africa's Tarantino" shooting video for Go! Go! Gorillo
At the slums of Wakaliga in the ugandan capitol Kampala, a small low budget film industry has arisen: Wakaliwood – which name is derived from the slum where it's located. VICE is describing the blooming scene as "new ugandan wave of ultra-violent DIY action cinema". The one man that is responsible for all this is Isaac Nabwana, the "Quentin Tarantino of Uganda" (Huffington Post), who created a modern cult classic with his action movie "Who Killed Captain Alex", which has already created an international stir and caused a huge sensation at film festivals around the world.
The african film maker started recording a music video for us mid-year. For the song "King Kong Loves The Blonde One", Nabwana has pulled out all the stops and interpreted the story of the giant ape in his very own way and style: traditional ugandan music instruments used as machine guns, slum beauties with long blonde wigs, dancing kids and pistol salvos, a furious man in an ape costume raging through Vienna and cheapest special effects. Our domestic music scene has never seen such a video! (The End)