DEMENTED ARE GO + CHURCH OF CONFIDENCE + GO! GO! GORILLO @ Shelter
Date: Fr, Mrz 14, 2014 - Sa, Mrz 15, 2014
Zeit: 20:00 - 1:00
Austragungsort: SHELTER - Wallensteinplatz 8, 1200 Wien (Vienna)
Location: Wien (A)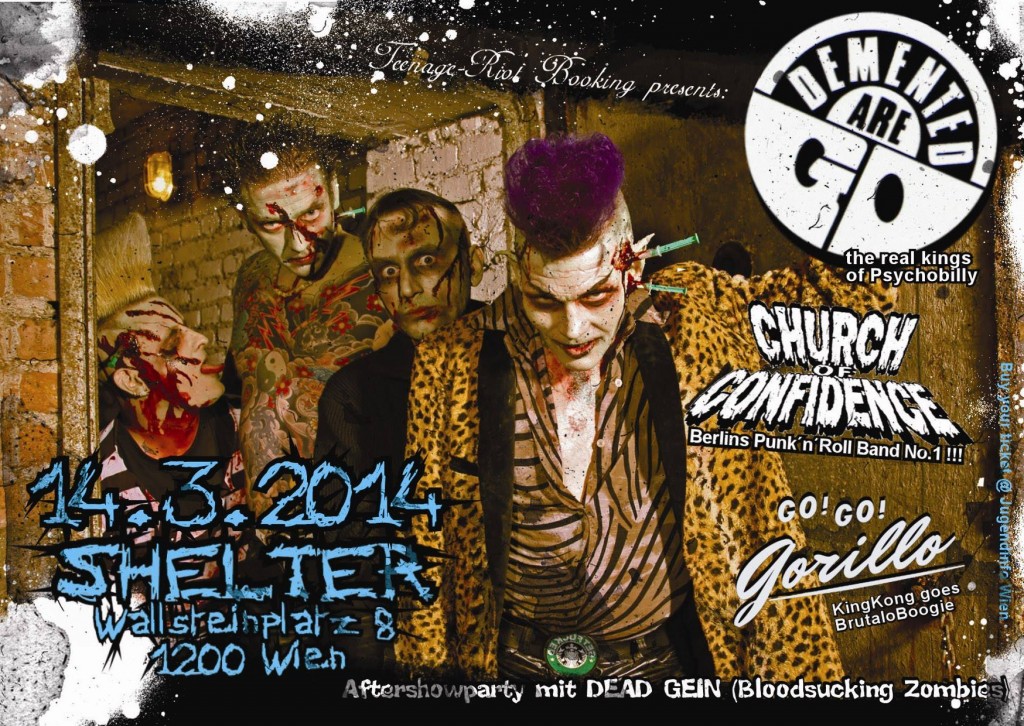 =================================================
Teenage-Riot.com presents:
=================================================
supported by :
SUBTEXT // http://www.subtext.at/
HEARING THE VOICE // https://www.facebook.com/hearingthevoice
=================================================
DEMENTED ARE GO (uk)
CHURCH OF CONFIDENCE (ger)
GO GO GORILLO! (aut)
14.3.2014
SHELTER
Wallensteinplatz 8
1200 Wien
http://www.shelter.at/
=================================================
AFTERSHOW PARTY :
Record Hop w/ DEAD GEIN (Richy) – Bloodsucking Zombies
=================================================
DEMENTED ARE GO (uk)
http://www.facebook.com/Official.DementedareGo
Psychobilly-Legende ! Neben METEORS sind DEMENTED ARE GO DAS Zugpferd für dieses Genre. Seit Beginn ist vorallem der Freak am Mikrofon der Hingucker schlechthin.
Gespielt wird ein furioser Mix aus 50`s grindhouse Rock`n Roll, 60´s Garage und natürlich Punk-Rock. Egal wie sehr man die Band liebt oder hasst – eines ist gewiss: sie haben eine Menge guter Songs geschrieben, viele zählen zu den besten Psychobilly-Nummern schlechthin !
Rechtzeitig zu ihrem brandneuen Album gibt´s
Go to Punkabilly Heaven Kids..

CHURCH OF CONFIDENCE (ger)
https://www.facebook.com/pages/Church-Of-Confidence/241972289191350
Yeah .. endlich. Punk´n´Roll as fuck !
Eine meiner unsterblichen Hit-Alben wurde von dieser Band geschrieben und trägt den Titel "teaching the children the blues".
Punk-Rock´n´Roll wie ihn THE BONES nicht besser spielen könnten :


GO GO GORILLO! (aut)
https://www.gogogorillo.com/
Go! Go! Gorillo sind die unbestrittenen King Kongs des Rock'n'Roll!
Aus räudigem Rock, Brachial-Blues und satanischem Surf schaffen sie sich den Brutal Boogie,dessen eingängige Riffs Godzilla und die Armee der Finsternis in die Flucht schlagen… noch Fragen ?


=================================================
VVK Tix über Jugendinfo Wien
=================================================